Because sometimes you just need to design a beam.
Design your next steel or wood beam in minutes.
Start Designing
Trusted by engineers, architects and construction professionals around the world. WebStructural makes steel and wood beam design quick and easy.
Modern structural analysis software is pretty amazing, but sometimes you just need to design a beam. WebStructural makes sizing steel and wood beams quick, easy and accurate. There's nothing to install and everything is synced to the cloud. Try it free, you might be surprised at just how easy it is to design your next beam.
| | | |
| --- | --- | --- |
| AISC Steel Shapes | European Steel Shapes | Visually Graded Lumber |
| Engineered Lumber LVL and PSL | Custom Shapes & Materials | LRFD & ASD Load Combinations |
| AISC Steel Design | NDS Wood Design | Simple Demand vs Capcity Checks |
| Multiple Spans | Multiple Loads | Save and Print Projects |
Beam Designer
Free AISC Steel and NDS Wood Design LRFD and ASD Design Checks and Load Combinations. Use the Basic version free of charge. Try it now.
Anchor Bolt Designer
ACI Appendix D - Anchorage to Concrete. Quick and easy reinforced concrete anchor design.
Frame Designer - Coming Soon
Quick and easy 3D frame analysis. Perfect for small to medium sized structures.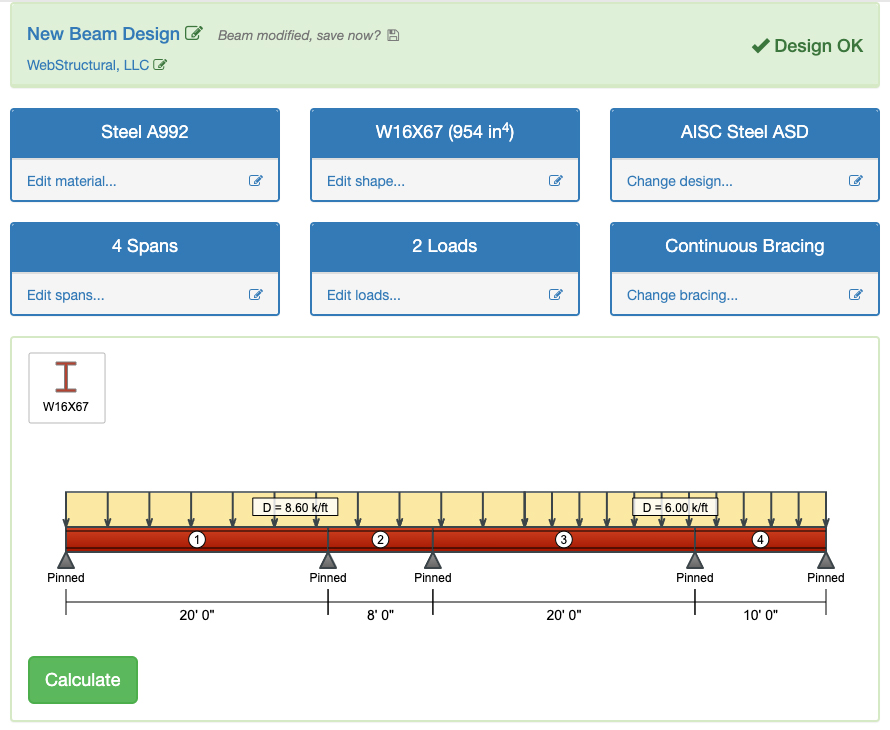 Beam Designer
Design multi-span beams with complex loads. An interactive drawing area allows you to design multi-span beams in minutes. Use the free version as much as you like. Upgrade for $19 montly to save and print projects.
AISC & NDS Design
Steel and wood design with LRFD, NDS and ASD design checks and load combinations.
Steel, Wood and Custom Shapes
An extensive shape library for common steel and wood shapes. Analysis and capcity check for custom shapes.
Anchor Bolt Designer
Concrete anchorage design per ACI Appendix D.
Multiple Bolt Types
Threaded rods, headed bolts, headed studs and hooked bolts. With or without grout pads.
Multiple Load Factors
ACI Appendix C and ACI Chapter 9 Load Factors. With or without seismic provisions.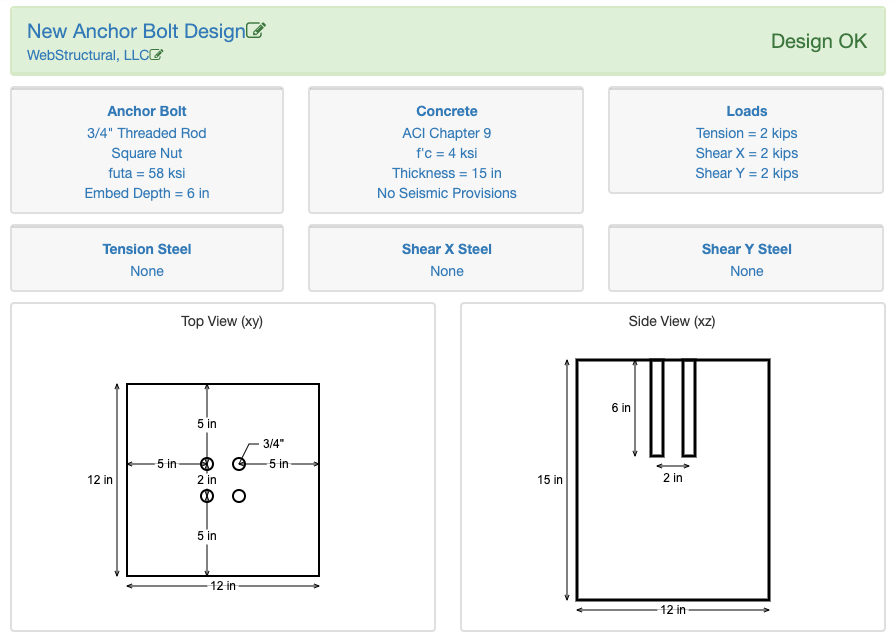 Free, easy to use beam design software
Use the Basic level to design simple steel and wood beams. Use it as much as you like. Upgrade to Pro for $19 monthly when you're ready to start saving projects and printing.
Basic

Free

Pro

$19 monthly

Save Projects
Print Results
Multiple Spans (more than 2)
HSS Strong and Weak Axis Analysis
European Steel Shape Analysis
Custom Shape Analysis
Multi ply lumber
LVL and PSL Engineered Lumber
Start Designing
Create an Account